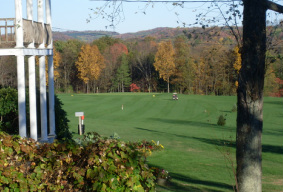 Hole 1 (view from pro shop)
The name "Kenterra" was decided upon by owners Greg and Teresa Kennis in 2004 just prior to the opening of the course. However, it took many days of thinking and hours of brainstorming before finally creating the most fitting title for this golf layout. Kenterra which means "Kennis Terrain" was chosen because this course would be constructed using only the natural layout of the family farmland.

The original piece of ground, adjacent to Kenterra Golf Course to the west, was purchased by Peter G. Kennis Jr. in 1949 not long after returning from his service in WWII. He farmed the land for several years while raising a family. When the farm on which Kenterra now sets came up for sale in 1961, Pete bought it in order to raise more crops and expand the dairy herd. In the early 80's, his son Gregory L. Kennis took over the dairy farm full time, managed the land, and raised his own family. By the time the mid 90's arrived, an important decision needed to be made. Because his four children and primary help were finishing school and moving on to begin their own lives, milking cows was just physically too much to handle alone. Therefore, he decided to sell the dairy herd and raise young dairy heifers to sell when they matured into milk cows. Meanwhile, he and his son Greg needed to decide on how they would use the farmland in the future while still putting it to good agronomic use.

The idea of turning the farm into a golf course had been tossed around for decades but nothing ever came of it until about the time Greg (Jr.) was deciding on what he would study in college. Greg (Sr.) suggested that he take Turfgrass Science as his major. If they were to follow up on what was once just a thought or "pipe dream", then some turf experience would be necessary to help make it a reality. So Greg Jr. enrolled in Penn State's 4-year turfgrass science program.

Upon retiring in the mid 80's, Pete Kennis took up the game of golf and realized he had quite a knack for it. In those years after retiring, he virtually became a scratch golfer! His knowledge and understanding of the game would become a major asset to the design plan and layout of the proposed golf course.

In the year 2000, the first ground was broken to build the driving range. Also, some preliminary clearing was done on holes 4 and 5 with the generous help of family and friends. For the next four years, they chipped away at the construction while still farming and raising dairy heifers. Countless hours were spent hand picking, raking and shoveling stones on the fairways which were then seeded with a perennial ryegrass/kentucky bluegrass mix. The tees were built and carefully leveled while using that same rye/blue mix. Large, gently sloping (Penn A-4) creeping bentgrass greens were constructed. U.S.G.A. specifications were followed, allowing for firm, lightning quick surfaces throughout the golf season. While keeping in mind what Pete continued to preach, which was "keep the course fun for the shorter hitters", four sets of tees were eventually built to accomodate all skill levels.

Kenterra Golf Course opened in the Fall of 2004. It remains a family operated business with no plans of that changing for the forseeable future!






---